Hey folks, hopefully you're all recovered from SXSW last week, at least those of you who were there... unlike myself. But since I wasn't there, I want to live vicariously through you! Do you have a few cool photos of bands playing, of you with artists, of you with radio / label / promo peeps? Send them my way and I'll put together an album for next week. Please don't bombard me with huge files though. Just pick two or three really good ones. I'd also be interested in knowing the top five shows you saw. Maybe I'll post those too. Please be sure to include "SXSW Photos" in your subject line or I will surely lose track.
Now as we get to this week's standings, I am little bit surprised by the album chart this week. Wasn't this supposed to be the week of Spoon? Yet Hot Thoughts only comes in at #2 with Real Estate besting them and everyone else with their new album In Mind. Topping the singles chart though are The Afghan Whigs with "Demon In Profile," up a couple spots from last week's impressive debut.
Dirty Projectors are next up on both charts with "Cool Your Heart" at #2 and their self-titled album tied for #3 with Sylvan Esso's forthcoming What Now. There's another tie for #5 on the album chart between Little Dragon's Season High and Minus The Bear's Voids. Then back on the singles chart, the aforementioned Sylvan Esso and Real Estate tie with "Die Young" and "Stained Glass," alongside Weezer's brand new tune "Feels Like Summer," all at #3. In case I just confused you, you can see the charts in a more linear and more complete form below.
I'll be back next week with a SXSW photo album as promised (if you all deliver of course) and a couple new shows on the charts. We'll be adding Spin Forward from WWYY in Allentown, PA and XX1051 from KCJK in Kansas City (joining SoundcheX). Until then...
~ Josh Landow
Twitter: @JoshTLandow
| | | | |
| --- | --- | --- | --- |
| # | Artist | Track | Label |
| 1 | THE AFGHAN WHIGS | DEMON IN PROFILE | SUB POP |
| 2 | DIRTY PROJECTORS | COOL YOUR HEART | DOMINO |
| 3t | REAL ESTATE | STAINED GLASS | DOMINO |
| | SYLVAN ESSO | DIE YOUNG | LOMA VISTA |
| | WEEZER | FEELS LIKE SUMMER | CRUSH / ATLANTIC |
| 6t | THE DISTRICTS | ORDINARY DAY | FAT POSSUM |
| | LOCAL NATIVES | DARK DAYS | LOMA VISTA / CONCORD |
| | NEW POLITICS | ONE OF US | DCD2 / WARNER BROS. |
| 9t | MINUS THE BEAR | LAST KISS | SUICIDE SQUEEZE |
| | PORTUGAL. THE MAN | FEEL IT STILL | ATLANTIC |
| 11t | 311 | TOO MUCH TO THINK | BMG |
| | LITTLE DRAGON | SWEET | LOMA VISTA |
| | SPOON | CAN I SIT NEXT TO YOU | MATADOR |
| 14t | FUTURE ISLANDS | RAN | 4AD |
| | K. FLAY | HIGH ENOUGH | INTERSCOPE |
| | MAGIC GIANT | SET ON FIRE | WASHINGTON SQUARE / CONCORD |
| | REAL ESTATE | DARLING | DOMINO |
| 18t | THE BLACK ANGELS | CURRENCY | PARTISAN |
| | BLEACHED | CAN YOU DEAL? | DEAD OCEANS |
| | DREAMCAR | KILL FOR CANDY | COLUMBIA |
| | THE DRUMS | BLOOD UNDER MY BELT | ANTI- |
| | FLEET FOXES | THIRD OF MAY | NONESUCH |
| | KOLARS | ONE MORE THRILL | SELF-RELEASED |
| | MAGGIE ROGERS | ON & OFF | CAPITOL |
| | MARIKA HACKMAN | BOYFRIEND | SUB POP |
| | MARK LANEGAN BAND | BEEHIVE | PIAS |
| | THE ORWELLS | BLACK FRANCIS | CANVASBACK / ATLANTIC |
| | | | |
| --- | --- | --- | --- |
| # | Artist | Album | Label |
| 1 | REAL ESTATE | IN MIND | DOMINO |
| 2 | SPOON | HOT THOUGHTS | MATADOR |
| 3t | DIRTY PROJECTORS | DIRTY PROJECTORS | DOMINO |
| | SYLVAN ESSO | WHAT NOW | LOMA VISTA |
| 5t | LITTLE DRAGON | SEASON HIGH | LOMA VISTA |
| | MINUS THE BEAR | VOIDS | SUICIDE SQUEEZE |
| 7 | CRAIG FINN | WE ALL WANT THE SAME THINGS | PARTISAN  |
| 8 | THE ORWELLS | TERRIBLE HUMAN BEINGS | CANVASBACK / ATLANTIC |
| 9t | BLEACHED | CAN YOU DEAL? EP | DEAD OCEANS |
| | FATHER JOHN MISTY | PURE COMEDY | SUB POP |
| | PWR BTTM | PAGEANT | POLYVINYL |
| 12t | BLOOD AND GLASS | PUNK SHADOWS | SIMONE |
| | KOLARS | KOLARS | SELF-RELEASED |
| | MARK LANEGAN BAND | GARGOYLE | PIAS |
| | TENNIS | YOURS CONDITIONALLY | MUTUALLY DETRIMENTAL |
| 16t | THE NEW PORNOGRAPHERS | WHITEOUT CONDITIONS | CONCORD |
| | ROLLING BLACKOUTS COASTAL FEVER | THE FRENCH PRESS EP | SUB POP |
| 18t | JAY SOM | EVERYBODY WORKS | POLYVINYL |
| | SEE | TIES | BLUE ÉLAN |
| | THE SHINS | HEARTWORMS | COLUMBIA |
| | SLEAFORD MODS | ENGLISH TAPAS | ROUGH TRADE |
| | TIM KASHER | NO RESOLUTION | 15 PASSENGER |
| 23t | BASEMENT | PROMISE EVERYTHING | RUN FOR COVER |
| | CHARLY BLISS | GUPPY | BARSUK |
| | DUDE YORK | SINCERELY | HARDLY ART |
| | FINDLAY | FORGOTTEN PLEASURES | THE END |
| | HIPPO CAMPUS | LANDMARK | GRAND JURY |
| | JAPANDROIDS | NEAR TO THE WILD HEART OF LIFE | ANTI- |
| | JOHNOSSI | BLOOD JUNGLE | CAROLINE |
| | LAURA MARLING | SEMPER FEMININA | MORE ALARMING |
| | LOS CAMPESINOS! | SICK SCENES | WICHITA |
| | METHYL ETHYL | EVERYTHING IS FORGOTTEN | 4AD |
| | MEW | VISUALS | PIAS |
| | STRAND OF OAKS | HARD LOVE | DEAD OCEANS |
| | TEMPLES | VOLCANO | FAT POSSUM |
| | THUNDERCAT | DRUNK | BRAINFEEDER |
| | THE XX | I SEE YOU | YOUNG TURKS |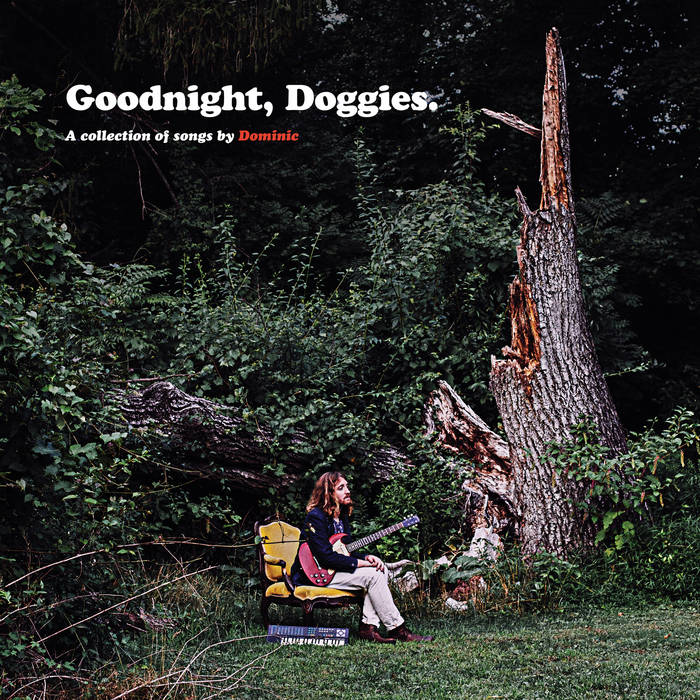 Dominic
Goodnight, Doggies.
(Lame-O)
Dominic Angelella has been a mainstay of the Philadelphia music scene for some time now.  He's been half of the band  DRGN King, co-frontman of Lithuania (with Dr. Dog drummer Eric Slick), and he's toured with bands like mewithoutYou and Cold Fronts.  Now Dominic steps up with complete creative control of his latest project, simply under his own first name, with the new album Goodnight, Doggies.  I recently sat down with Dominic to chat about the album and he recorded acoustic versions of three of its songs for our latest FMQB SubModern Session.
FMQB: So is Dominic just you as a solo musician or are you appropriating your name as a band name?
Dominic Angelella: I'm still trying to figure out if it's a band name or a solo project.  I think it just is a solo project at this point.  It was happening on the tour where people would be like, "Dominic's band Dominic is playing next," and that doesn't sound right.
 
FMQB: What was your thought process in doing this thing as just yourself?
 
DA: Well, we were writing songs for a new Lithuania record, and there was a bunch of stuff left over that I had.  Cause it's like a specific project has a specific feeling, and obviously that's a punk band.  There were all these songs that I had, that I felt good about, but I didn't know where they should go.  And so I just went to the studio with the idea of just recording some stuff, not really knowing where it was gonna end up.  At the end of three or four days we recorded nine or ten songs and I realized we had a record and pared it down to eight songs.  The original idea was just to put up online for free, and just let it be like "this is what I'm doing now," and see what people thought.  But I sent it to Eric [Osman] from Lame-O, who puts out some great records, and he was interested in it.  So the rest is what we have here.
FMQB: Well I think you made the right decision because it's really good and worth having a proper release for.
DA: Yeah, but the thing that's so cool with the way people release music now is that it wouldn't have been any less legitimate to me if I'd decided just to put it on Bandcamp, because there are people, especially in the city that I'm from, that do that on the regular.  I think it's so cool that you have people like Girlpool, and Scotty [Leitch] from Shelf Life, who used to be in Alex G's band, or even Alex before he started working with Domino, who just finish a record and put it on the internet and then do their next thing.  That said, it's really awesome to work with Lame-O, cause they're just such a great label.  And also, just having finished it, I want to make more records under the moniker now.  I'm excited to keep doing that. It's just something that started as another little side thing.  I was gonna even give it a different band name, and then Brendan [Mulvihill] from Norwegian Arms was like, "You should use your name."  It just made sense.
 
FMQB: There are other people playing on the record, right?
DA: Oh yeah, totally!  It's definitely a group of people.  I'm not good enough at drums to do that, so Joe Baldacci from DRGN King played drums on the whole thing.  Brendan Mulvihill played on a lot of it, Andy Black, who I've just known forever, and then Lucy Stone, who was in DRGN King and does a million other projects too, contributed a lot of vocals to it.  So it definitely was a group project, but the idea was I had the songs and general sense of how I wanted them to sound, and I figured if we all got in the studio together we could make something really cool.
 
FMQB: And you did!
 
DA: Thanks!  Under that logic, I hope I can continue to do that cause it was such a good experience and informed how I plan on making music in the future.  Just getting some people together and seeing what happens, with a clear idea of what I want, but let a lot of other people's ideas come in.
FMQB: It sounds like some of the songs get a little political, which seems different for you, but not out of the ordinary for the times we're living in.  Was that top of mind when you were writing these songs?
DA: Yeah, there's one song on the record that has a lot to do with art vs. commerce, mainly that guy Martin Shkreli, who was running that label with Geoff [Rickley] from Thursday and when it all came out that he was jacking up the prices of AIDS drugs.  That, in me, opened up a larger conversation about people trying to make art, when really most people that run bigger record labels are, in some form or fashion, engaging in something that you could think of as terrible.  Maybe it's all wealthy people in general, I don't know, but it's worth looking at money being an impetus for doing evil stuff.  Being directly political isn't something that I ever really thought about doing with my songs, because I didn't want to do that and then have someone be like, "You're not into direct action."  Whereas I think that all that stuff is really important and I try to go to protests and donate whenever I can, I have friends who are really, really about it.  Y'know, who are songwriters who write about it and are out in the field and everything.  I don't ever want let on and to be seen as self-righteous if I'm not going to back it up.  But at this point it's like you can't afford to not talk about it.  There's a lot of political stuff mixed with personal in these songs and yeah, it's pretty new for me.
 
FMQB: Yeah, I kinda thought so.
DA: Well, when you work with other people, even if you write all the lyrics and the other person is doing just the music like with DRGN King, it inevitably is like a mixture of our brains.  Not that people were afraid to get political, but it feels good to write songs on my own and explore different things that I think about that way, instead of trying to fit them into a mold of whatever a project is supposed sound like. 
FMQB: Because this can sound like anything you want, and can vary from song to song on the record?
DA: Yeah, it can be whatever.
Find out more about Dominic at LameORecords.com and check out his video for "Emotional Businessman" here.  Listen to his SubModern Session performance here.
By Josh T. Landow